07 July 2018: Reason 64: Bloch and Neel walls explained.
This is a continuation of Reason 53 from 08 Feb this year where for the first time I proposed that in all materials with magnetic domains, the domains have a small surplus of one of the magnetic charges of the electron. So it is either a north charged domain or a south charged domain. The domain walls have a surplus of electron pairs and just like in a diamagnetic material it is the electron pairs that keep the magnetic surpluses locked into the magnetic domains.
I came upon this idea or this insight because it was claimed that domain walls could not be transported by magnetic fields in those nano wires that IBM tries to use in making so called racetrack memory. The way I view magnetism is that the electron pair is always magnetically neutral while all unpaired electrons carry one of the two possible magnetic charges.
For me it is important to mention this once more because magnetic domains can be rather large and as such may be it is experimentally provable that magnetic domains have a surplus of unpaired electrons of either north charge or south charge.
So if it is possible in an experiment to approach such a magnetic domain with a tiny tiny compass needle, from whatever direction you approach the magnetic domain, the tiny needle should always point inwards or outwards. That means it is not true that a magnetic domain is a tiny dipole magnet where the total magnetization can be represented as a vector.
It always points in or out of the magnetic domain and should always be more or less perpendicular to the domain wall.
This simple model of magnetic domains having surpluses of magnetic charge gives also a good explanation of why ferro magnetism actually works, why is a piece of iron attracted to a permanent magnet? Suppose you approach a piece of iron with a permanent magnet, the magnetic domains reconfigure themselves because unpaired electrons are attracted or repelled by the magnetic field coming from the permanent magnet.
For example you approach the head of an iron nail with the south pole of your permanent magnet, that makes the unpaired south charge electrons repelled and as such the tip of the nail will become a south pole.
That is indeed as how iron nails behave, just like when you were a kid and handed a few magnets for the first time... ;)
__________
The magnetic domain walls are often named Bloch walls while in a very flat material they are named Neel walls.
Bloch walls are more than the thin layer that separates the north and south pole magnetic charges, they also form larger structures like halfway a permanent magnet or halfway a stack of permanent magnets.
In the next video you can see a magical thing: magnetic viewing paper. It shows the main Bloch wall in a permanent magnet or a stack of permanent magnets. It is important to understand what is happening here: halfway the permanent magnet or stack of permanent magnets the Bloch wall is electrons going round in order to neutralize the magnetic field locally.
The video guy even has a small detector that validates what I am saying, beside me saying that it is also standard knowledge that electrical currents always act as to neutralize magnetic flux changes...
At about 2 and a half minutes into the video you can see how the Bloch wall has changed, never forget this magnetic domain formation is a highly dynamical process because in all ways possible the electrons oppose the magnetic field. So not only the change in flux but just always...
Video title: The Bloch wall - How the Bloch wall can change.
https://www.youtube.com/watch?v=r38qMrjrSqs Click on the picture to view the video: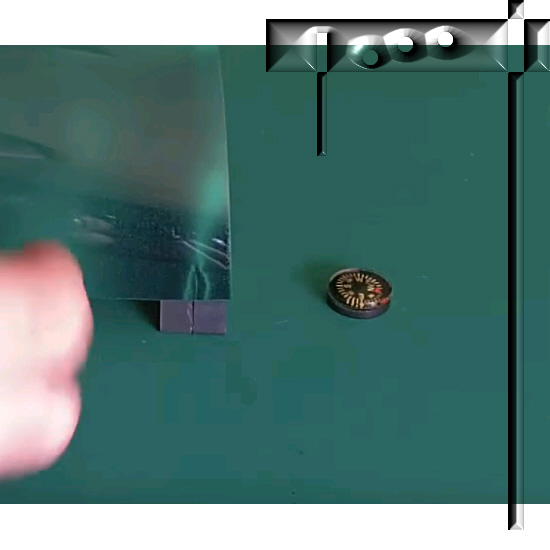 I have no idea how this 'magnetic viewing paper' works but at least now I understand why iron gets attracted by a permanent magnet on a more dynamical level.
__________
Ok, the reminder of this reason number 64 as why electrons cannot be magnetic dipoles is showing you the usual way as how magnetic domains are presented: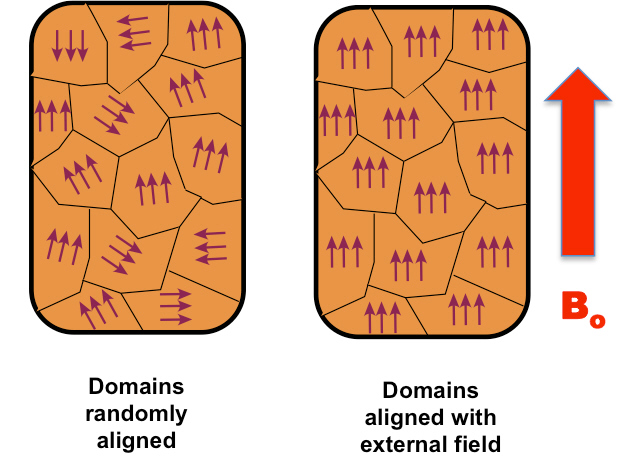 It is funny to understand how much is wrong in the above picture. Even the arrow of that external applied magnetic field is pointing in the wrong direction... And on the left hand side of the picture we also observe nonsense because a more accurate experimental analysis would show that all magnetic bipolarism lives mostly in the walls and not the domains...
But permanent magnets have their permanence baked in via heating up the metal, slowly cool it down while applying a strong magnetic field when it is cooling down and that way of producing permanent magnets suggests strongly that the unpaired electrons in a permanent magnet are burried deep inside the atomic orbitals and as such they are 'locked in place'.
So all in all the picture above is faulty in many ways, but on the atomic scale of permanent magnetism it is more or less correct...
__________
After this sidestep explaining how a piece of iron gets attracted by a permanent magnet, it is time to look at the official version of Bloch and Neel walls. Luckily I found a short html file of a Dutch university sitting on number five of the search engine result. Here is the pdf from the UvA (= university of Amsterdam):
Domain walls
https://iop.fnwi.uva.nl/cmp//qem/research_projects/domainwall.html
I would not comment on the next picture from the above html, if electrons would be magnetic dipoles wouldn't it be reasonable they would form strings like in vector addition where you put it tail to head? That is what you should expect if the electrons were magnetic dipoles. Chemistry as we know it would not be possible because all matter hangs together from the electron pair.
And now we are talking about the electron pair: I still do not know if the magnetic attraction between two electron with opposite magnetic charge is greater or smaller compared to the repelling force of the equal electrical charge of the two electrons.
Anyway, here is what the establishment thinks about how Bloch and Neel walls are: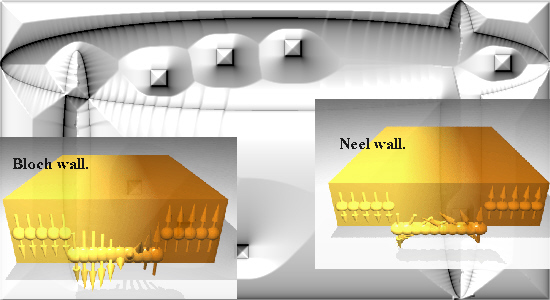 Since the Neel walls are found in flat materials like magnetic tape for your ultra hip walkman, most magnetic energy in a magnetic domain does not need to be contained. Therefore the borders between magnetic domains can be much weaker compared to lets say an iron cube where it clearly is three dimensional.
Even if your magnetic tape is only one atom or molecule layer thick, in the walls that separate the magnetic domains you still need a surplus of electron pairs in order to get the domains separated.
Before we split, one more laugh at this very strange looking model of reality (if electrons sitting side by side have all their bipolar magnetic vectors pointing up, how can this be stable because everything is repelling?).
(Picture source: https://www.researchgate.net/
figure/Considered-180-top-Bloch-type-and-bottom-Neel-type-domain-walls_fig1_260707647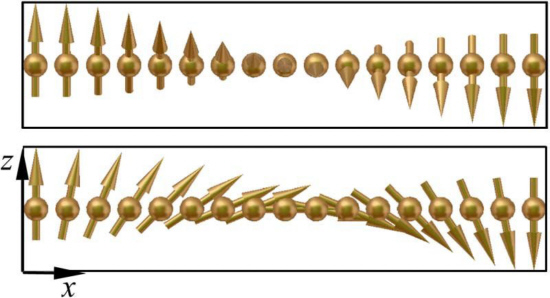 At least you cannot say that those physics people are not very creative.
Now only for that one experimental proof that the electron is actually a magnetic dipole...
Come on my dear physics community, it is now the 21-th century and how much longer does the ordinary citizen wait for a fundamental proof that the electron is magnetic dipole?
Ok, let me leave it by that.
See you in the next reason number 65 where likely I will pick up the subject of solar activity and mostly how those majestic looking plasma loops form.