19 March 2017: Reason 46: BCS theory says electron pairs are bosons...
Ok, it is a very weird name for a theory but BCS is standing for the three people that more or less explained why super conductivity sets in. BCS theory stands for Bardeen–Cooper–Schrieffer theory who in 1957 proposed a possible explanation for super conductivity.
The good thing is the Cooper part, even today we name electron pairs often Cooper pairs and for Mr. Cooper it must have been mind boggling: How can it be that electrons that after his beliefs were magnetic dipoles could form electron pairs and only those electron pairs can do the super conducting thing?????
The bad thing about BCS theory is that you constantly read about electron pairs being like bosons, this is such a nonsense that at first I skipped it and skipped it until I realized this boson stuff is really a part of the 'official explanation'.
But if electrons are also magnetic monopoles coming with the two magnetic charges, in that case the electron pair is magnetically neutral and will have no interference with other electron pairs.
Bosons, unlike Fermions, do not apply to the Pauli exclusion principle. A goof example of the boson is the photon or the particle of light. You can stack any amount of photons into the tiniest of spaces, you can always add much much more photons. With Fermions you cannot do that, particles like electrons, protons and neutrons simply must have a little bit of space to exist and that is why stuff like atoms or molecules are so very large compared to nuclear size and the giant electron cloud.
Even BCS theory itself implies the electron pair is not a boson like thing because we still have the critical currency threshold; if you put too much electrical current through a super conducting wire the super conductivity breaks down.
That simple fact proves that electron pairs are just like unpaired electrons and as such they are not bosons...
And in a broader explanation; just look in the science of chemistry how the electron shells behave in atoms and molecules. Every thing hangs together with electron pairs but when some shell if full no more electrons are allowed, paired or unpaired.
So the boson side of BCS theory is one hundred percent bogus nonsense.
I think it is only repeated because everybody says so...
My main explanation for electron pairs contributing to the super conductivity is given by the fact that electron pairs are magnetically neutral, especially when it comes to interaction with other electron pairs. Ok ok electron pairs will always repel because of the same electrical charge but in a metal there is always that crystal lattice structure of positive ions; hence there is not a lot of repelling to do.
Another example as why the magnetic neutrality in my view is playing an important role is, for example, the hydrogen molecule. Here you see the binding energy between two hydrogen atoms: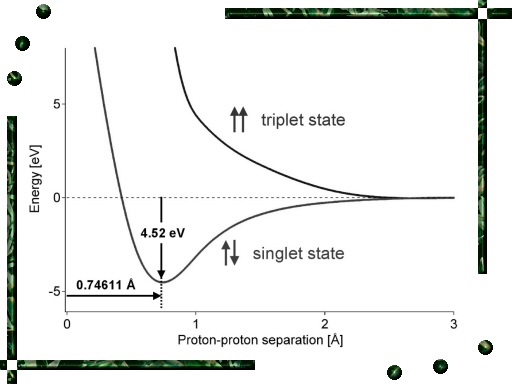 Picture source: About hydrogen https://hydropole.ch/en/hydrogen/abouth2/
As you see on inspection: if two hydrogen atoms with the same spin state for the electrons meet, they will never bond. They only bond into a hydrogen molecule if the electrons carry opposite magnetic charges.
__________
Let me give you a link and let me quote a bit of the nonsense about electron pairs following the rules of boson like particles (once more: electron pairs are not bosons but fermions, once a atomic or molecular orbital is filled no more pairs can enter that orbital):
BCS theory https://en.wikipedia.org/wiki/BCS_theory
Here is the quote:
Evidence of a band gap at the Fermi level (described as "a key piece in the puzzle")the existence of a critical temperature and critical magnetic field implied a band gap, and suggested a phase transition, but single electrons are forbidden from condensing to the same energy level by the Pauli exclusion principle. The site comments that "a drastic change in conductivity demanded a drastic change in electron behavior". Conceivably, pairs of electrons might perhaps act like bosons instead, which are bound by different condensate rules and do not have the same limitation.
Comment: All that Fermi level stuff is something I still havd to study but one thing is clear; even the great Fermi had no clue whatsoever about what electron spin actually is. There is nothing spinning around it is just magnetic charges, one named north pole charge and the other named south pole charge...
__________
On one of those popular science websites named Quora I found the standard explanation of why Cooper pairs (electron pairs) form in the first place. It is a strange explanation because if an unpaired electron has electrical resistance in the first place, two electrons will only meet more resistance. Remark the crystal lattice is made of positive ions... Quote:
Lattice ions are positively charged. Hence when a negatively charged particle like electron zips through the lattice, the lattice in that region contracts a little and the positive ions come close together in that region. An electron moves much faster than the positive lattice ions can respond so lattice response is a bit sluggish and even after the electron is gone, the positive region remains for a while and causes attraction for another electron. This is the picture behind Cooper pair formation.
Source of the quote: Condensed Matter Physics: In the BCS theory of superconductors, why is it that the formation of Cooper pairs is most favoured when the electrons are moving in opposite directions?
https://www.quora.com/Condensed-Matter-Physics-In-the-BCS-theory-of-superconductors-why-is-it-that-
the-formation-of-Cooper-pairs-is-most-favoured-when-the-electrons-are-moving-in-opposite-directions
And from the same source a picture that 'explains' why super conductivity emerges is the next picture that shows so called 'electron phonon scattering':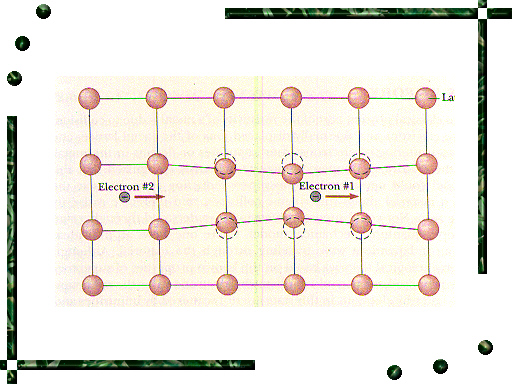 The above explanation misses an important thing: Why are there only electron pairs observed in all super conductivity materials? If this 'electron phonon scattering' explanation has any meat on the bone, why should it stop after that passage of the second electron in all kinds of materials?
While using the idea that electrons carry one electrical charge and two possible magnetic charges is a far better explanation of things observed in reality...
__________
Ok, this was reason number 46 as why electrons cannot be magnetic dipoles.
Till updates my dear reader.
__________
Updated on 05 April 2017: After watching a couple of video's where you have all those professional physics people decrying stuff like 'WHY DO ELECTRONS FORM PAIRS BECAUSE THEY REPEL EACH OTHER BECAUSE OF THE SAME ELECTRICAL CHARGE THEY HAVE!!!'
Those very people never get tired of stating that 'Quantum physics is so strange that if you think you understand it, you do not understand it'.
But what I did forget to mention in the above reason number 46 is the during the super conducting phase of a material, the electron pairs are magnetically neutral to other electrons pairs as found in the electron shells of the ions of the super conducting metal.
Yet they will also follow a path that is neutral for the electrical forces on them; the path will be such that the attractive forces from the positive atomic nuclei is neutralized by the repelling forces from the electron clouds surrounding those nuclei.
This evening I made a very very simple model and about 15 to 20 minutes of calculations say that those 'electrical neutral paths' even go right through the electron clouds surrounding the nuclei...
That was a surprise to me because I expected the both magnetic and electric neutral path for an electron pair to be outside the electron shell. And if you think about that you more or less have the key to understanding super conductivity on both the low temperature scale and those modern high temperature materials known under names like cuprates and stuff:
Find the path with the least magnetic and electric forces as acted on the electron pairs.
This sounds easy but now we know that electrons also carry magnetic charge, more and more paths are available to an electron pair if you realize the magnetic force and electric force can cancel each other out.
And beside that, ha ha ha, the electron pair might loose some speed or gain some speed if there is no perfect cancellation of all forces as long as it's initial speed is high enough.
It is a beautiful process if you try to figure out how it works; and that stupid stuff with so called 'phonons' that are only vibrations of the metal lattice where the electron pairs travel through is just nonsense.
__________
Back to 1911 and the guy named Heike Kamerling Onnes who discovered super conductivity for the first time as history knows it. Let's look at Mercury, it is number 80 on the list of periodic elements so it has 80 protons in it's atomic nucleus.
The stuff is frozen very cold and the mercury is in a lattice.
Suppose the official BCS theory is true; a loose or unpaired electron wanders through this lattice of mercury atoms.
Let's say at some point in time the loose electron is surrounded by 8 mercury atoms, can this loose electron cause lattice vibrations that cause other electrons to join that loose electron?
Now 8 mercury nuclei carry 640 positive electric charges.
How much of a lattice disturbance will this give? Come on the BCS theory based on lattice disturbances is a no starter from the year 1957 on. It is nonsense, one electron can never displace 8 mercury atoms.
Let me repeat the nonsense once more: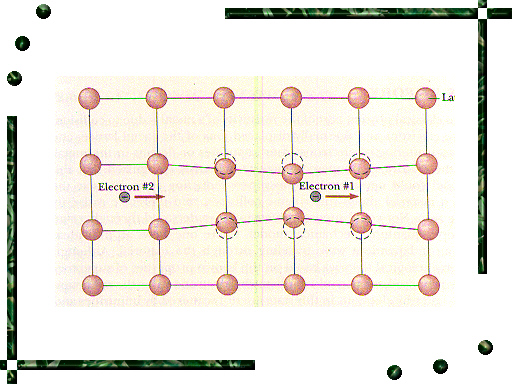 Ok, now you are really at the end of the tiny tiny faults in the BCS theory of super conductivity.
Till updates my dear reader.