From 15 April 2016: Debunking the Euler evaluation of zeta at minus one.
Last Monday this week I was at a public lecture given by a professional math professor named Frits Beukers. I went there because I had some vague hopes that I could observe some serious analytical continuation of the zeta function.
It did not happen, so the Euler valuation of 1 + 2 + 3 + 4 + 5 + etc etc = -1/12 was spoken about.
Now in the science of physics they use it all the time: If they encounter 1 + 2 + 3 + 4 + 5 + etc they simply replace it by -1/12 and after that they think the problems are solved.
By doing so the science of physics is turned into the pseudo science of physics; also every time you see one of those overpaid professional professors seriously talking about this -1/12 you are observing tax payer money burned for no reason at all.
__________
In this update, only three pictures long, we are going to debunk this nonsense from Euler and other people. I do not blame Euler in any way, his record is clear and as far as I am concerned he is still standing at position number on of math people in the all time rankings...
So I do not blame Euler that at present day we have all these idiots around using three or four brain cells and explaining that 1 + 2 + 3 + 4 + etc = -1/12.
__________
Update from 20 April: I emailed Daughter with a short version of the proof below and she told me she absolutely did not understand one thing from it. That made me scratch my head because in principle the proof below is not difficult at all.
So I selected a video from the university of Nottingham, I use exactly the kind of math they do in order to get the Euler result of -1/12. Check it out:
ASTOUNDING: 1 + 2 + 3 + 4 + 5 + ... = -1/12
http://www.youtube.com/watch?v=w-I6XTVZXww
Here are the three pictures: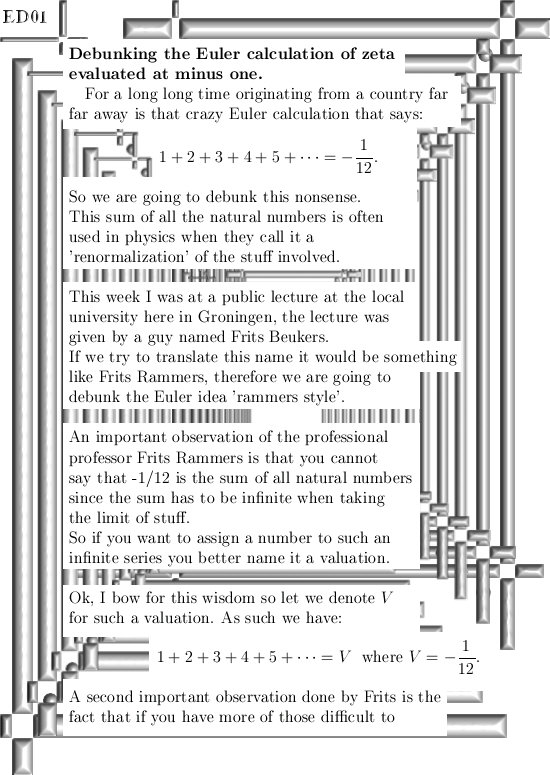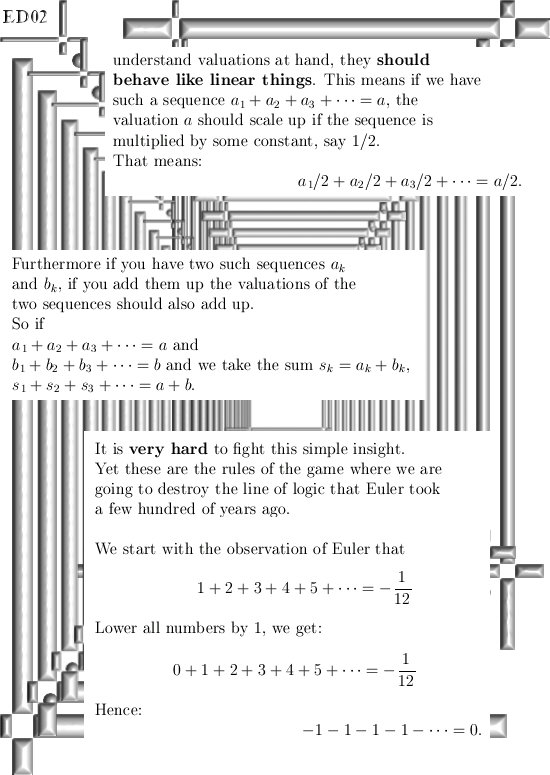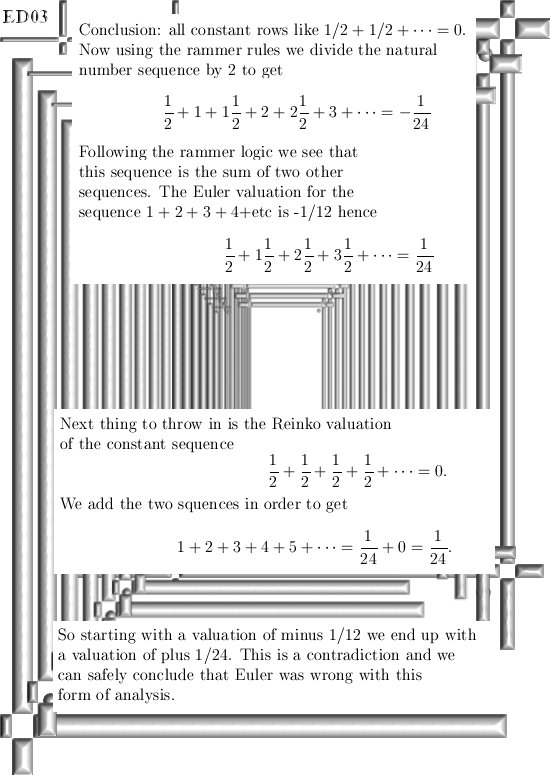 I could post many links to all kinds of files that say 1 + 2 + 3 + 4 + 5 + etc = -1/12, but look for yourselves if you want to see the brains of those idiots in action...
__________
Update from 21 Apr 2016: In the above three pictures I showed you a simple proof using very basic math and we first 'proved that' 1 + 1 + 1 + 1 + etc etc =0. And as such all constant arrays should be zero.
But you can talk that stuff to any value, look we first take the sum of all natural numbers (and once more first pretend Euler was right so we valuate it):
1 + 2 + 3 + 4 + 5 + 6 + 7 + 8 + etc etc = -1/12.
Now all of a sudden from number 5 we raise everything with 1, so that gives:
1 + 2 + 3 + 4 + 6 + 7 + 8 + 9 + etc etc = ???
As you see on inspection: these are all natural numbers except for the number 5.
The new problem is: What is the value of ??? and what is the valuation of the added row 1 + 1 + 1 + 1 + etc?
If we stick to the valuation of the constant array or row as 1 + 1 + 1 + etc = 0, in that case ??? = -5 1/12.
If we stick to saying 'We had a row of -1/12 and we added nothing, we should have that ??? = -1/12'.
Tiny problem: The last detail would imply 1 + 1 + 1 + 1 + etc = 5 because that is what has gone missing...
Huge problem: We can repeat this line of reasoning for every natural number.
Conclusion: Likely there is something wrong with the assumption that it should be -1/12 in the first place...
Till updates.
Update from 29 April 2016: For some strange reason there were suddenly much more Youtube video's out there on the crazy Euler evaluation of the zeta function at minus one. I will not post any link or so, likely if you read this you do a Youtube seach for yourself on for example 'The sum of all integers'.
Two more pictures and that is definitely the very end of this update: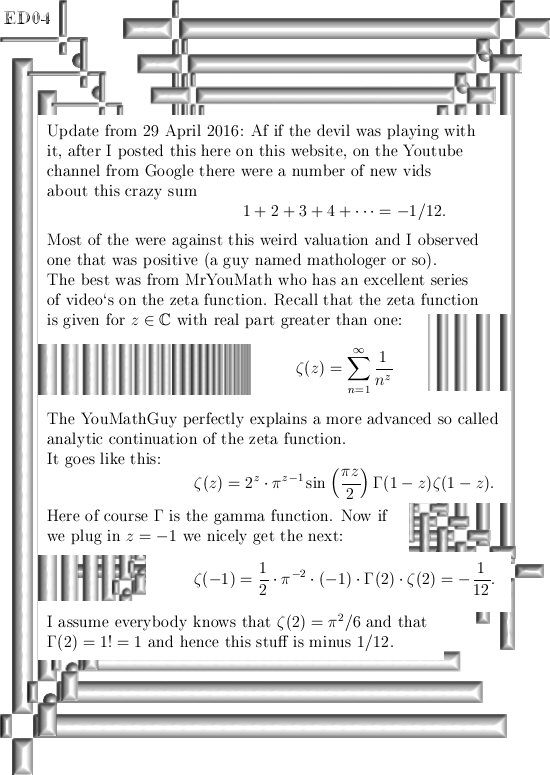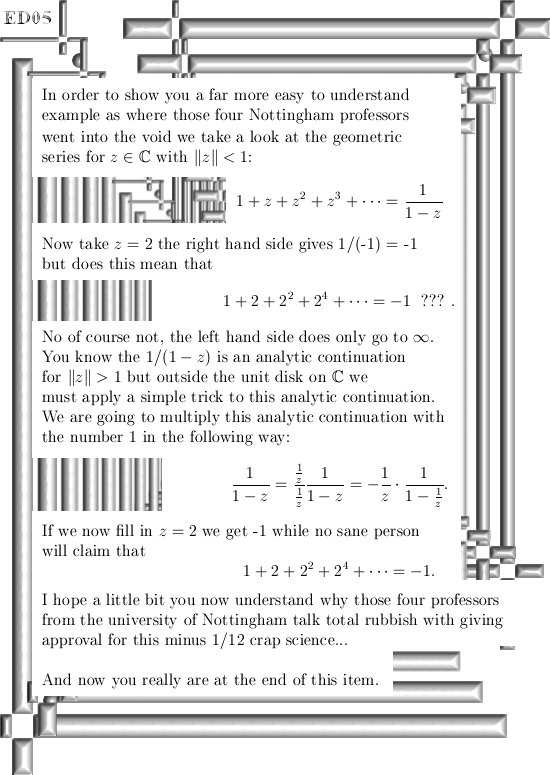 The best video out there also debunking the Euler idea that 1 + 2 + 3 + etc = -1/12 was posted two years back and here is the link and stuff: What is a function? Why 1+2+3+4+5+.... not equals -1/12 = Zeta(-1)
http://www.youtube.com/watch?v=wt6ngy6pDws
At last I want to remark that Euler is one of my heroes when it comes to math, so for myself speaking it was great fun to debunk a tiny bit of his insights. Till updates.
__________
Added on 14 Jan 2018:
Finally the Mathologer guy is doing the right thing and is also debunking this nonsense from the Nottingham professors. He has a video of about 42 minutes where in detail he exposes the dumb lines of reasoning as done by the Nottingham professors. At the end of the video he also enters the realm of analytic continuation in order to evaluate the zeta function at zeta = -1.
Indeed the analytic continuation gives minus 1/12 but once more:
This does not mean that 1 + 2 + 3 + 4 + 5 + ..... = -1/12.
Here is the video:
Numberphile v. Math: the truth about 1+2+3+...=-1/12
https://www.youtube.com/watch?v=YuIIjLr6vUA
Also do not forget to visit the new website: 3Dcomplexnumbers.net
that, like the name says, is mostly about three dimensional complex numbers.
Till updates.