14 Jan 2020: Reason 81: Parker solar probe results; fast changing direction of the local magnetic field.
A couple of years ago I arrived at the conclusion that if solar plasma would spin round like some kind of tornado, that would make a lot of the electrons inside that spinning tornado go out and very soon this tornado would become positively charged and as such become a very strong dipole magnet.
But I had no clue whatsoever if there could be spinning tornado like structures going into the solar plasma. So I never wrote that idea down at the time because it was all too speculative. After about a year I became aware of the fact that at the solar equation the sun is rotating faster compared to the polar regions. Ah, that was a very good finding because if the equation regions spin faster, it all is very plausible that rotating structures will emerge in the solar plasma...
It is well known that plasma is very conductive, for example they run the current through a tokamak fusion reactor with only one Volt or something of that order of magnitude. Plasma is highly conductive by it's very nature: most electrons are separated from the atomic nuclei. So if such a spinning tornado structure becomes highly positively charged because it spits out so many electrons, in that case streams of electrons from the surrounding plasma could come in. It could also be that in a short span of time so many electrons come in that the spinning plasma tornado would become negatively charged resulting in a sudden change of magnetism as it comes out of the solar surface...
May be, if you have seen those video's of the solar surface, you see such a stream of plasma going out from a solar spot along some magnetic field but than all of a sudden it stops in it path and you see all that plasma reverse and go back into the sun...
Ok, now for one of the results of the Parker solar probe. Let me quote you from a NASA source:14 Jan 2020: Parker solar probe results; fast changing direction of magnetic field. They name such sudden magnetic reversals 'switchbacks'.
Quote:
One type of event in particular caught the attention of the science teams – flips in the direction of the magnetic field, which flows out from the Sun, embedded in the solar wind and detected by the FIELDS instrument. These reversals – dubbed "switchbacks" – appear to be a very common phenomenon in the solar wind flow inside the orbit of Mercury, and last anywhere from a few seconds to several minutes as they flow over the spacecraft. Yet they seem not to be present any farther from the Sun, making them undetectable without flying directly through that solar wind the way Parker has.
Source: First NASA Parker Solar Probe Results Reveal Surprising Details About Our Sun
https://www.nasa.gov/press-release/first-nasa-parker-solar-probe-results-reveal-surprising-details-about-our-sun
I hesitated for about 10 days in order to turn this stuff into reason number 81 as why electrons cannot be magnetic dipoles because the explanatory graphic from NASA were so strange. But from history when it comes to solar plasma I know that a lot of the 'official version' also includes magnetic fields as some rubber band thing that live inside the sun and because of the rotational differences that would 'mess up' the rubber bands and all that energy released is the root cause of solar spots and the outbursts they have... I am not fooling you, I have said many times those people are crazy to the bone.
Here is the NASA picture: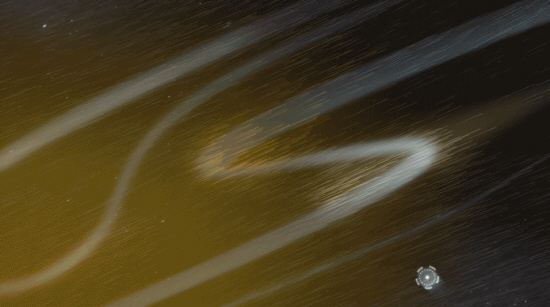 The five sided thing at the right lower corner is the Parker solar probe. It looks like the NASA folks think that the magnetic reversals are spatial but my dear NASA folks: magnetic fields fly out with the speed of light.
So all in all I post this reason number 81 is that I think a model like plasma tornado's makes much more sense to describe all that wonderful stuff we seen when looking at the behavior of solar plasma.
Back in 2018, on 22 July to be precise, I suggested this rotation model for the first time. That was in reason number 65 as why electrons cannot be magnetic dipoles:
Reason 65: A possible model for solar loops going between two solar spots.
I could not find a video that fast that shows solar plasma going out, coming to a halt and then going back along the same magnetic arc as it came out. But I found a nice pdf written by the quartet Z. Sturrock, A. W. Hood, V. Archontis, and C. M. McNeill. It is about sunspot rotation. Let we give you a short quote from the abstract:
Solar eruptions and high flare activity often accompany the rapid rotation of sunspots.
The title of their pdf is: Sunspot rotation (A consequence of flux emergence).
Link to pdf: https://www.aanda.org/articles/aa/pdf/2015/10/aa26521-15.pdf
Needless to say I think the title is a bit wrong: It is the rotation that causes the magnetic arcs going out of the solar surface. And not magnetism coming from the inside of the sun that makes the plasma rotate (anyway that is what the authors of that pdf seem to think).
Ok, that was it for this month Jan 2020. Till updates. (Updated on 22 Jan.)
By accident I found that video again where the solar magnetism is explained as rubber bands that get stretched and knotted and then explode releasing all that magnetic energy... It could be that the above confusing picture is explained by ideas like rubber bands that move through space.
It has to be remarked however that the astronomers just like me think that the difference in rotation speed is a driving factor in all those solar eruptions and those magnetic arcs observed at the solar surface. Yet the explanation offered in the video is rather weird; because of that difference in solar rotation those magnetic bands start moving sideways, get knotted and more or less explode in a violent manner...
Here is a screen shot of how it is supposed to work (according to the video from the university of Glasgow).
Click on the picture to land at the video, the explanation offered is found about 20+ minutes in the video: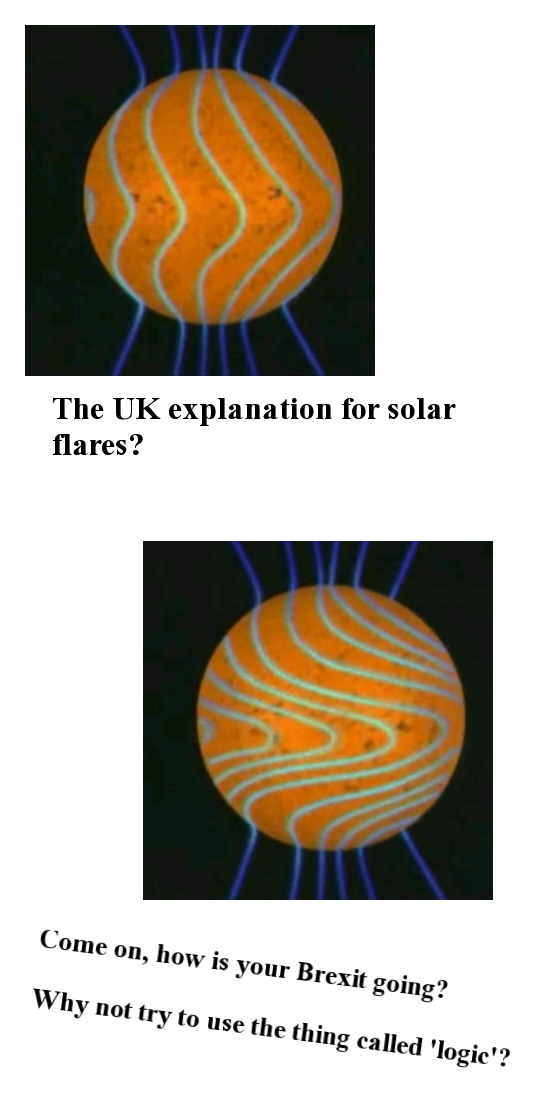 Video title: 'Solar Flares and Superflares' A lecture by Prof Lyndsay Fletcher University of Glasgow
Http stuff: https://www.youtube.com/watch?v=bYlDNyf7rfk
Ok, it is a bit of a tongue in cheek picture but let me try and use a tiny bit of the thing called 'logic' in my version of electrons being magnetic monopoles:
If electrons are magnetic monopoles and just like the protons carry a net magnetic charge, they will get accelerated by magnetic fields much more than the protons. Compare it to acceleration of electrons & protons by an electrical field: because the electric charges are opposite is sign but equal in strength, due to the giant difference in mass the electrons get much more accelerated. The same should go for magnetic fields.
Furthermore if the rotational difference of the sun gives rise to tornado like rotating structures in the solar plasma, once the plasma is spinning it will spit out much more electrons compared to protons going out. That means rotating plasma will always become positively charged and as such will act as a strong dynamo.
End of trying to use the thing called 'logic'.
End of this update.