11 May 2020: Reason 84: A few possible experiments on electrons.
After writing about five years about the impossibility that electrons are magnetic dipoles, it is about time that I try to unfold some idea's of experiments that would validate that indeed electrons are magnetic monopoles. Not that I expect that such experiments will be done during my lifetime, after all suppose somebody indeed is capable of gathering experimental evidence (or experimental proof) that indeed electrons are magnetic monopoles. And this person tries to write it down in some official publication, what will happen? Very simple: That publication will never make it past the so called peer review process, it will be dismissed because the experiment must have experimental error because 'electrons are magnetic dipoles' and every body knows that.
It has to be remarked once more that these weirdo's (the peer reviewers) have zero experimental evidence or experimental proof that the electron is a magnetic dipole, but who cares?
I would like to start with an experiment that I think can not be done because electrons are just too small for that. Since it cannot be done the experimental setup is irrelevant.
The impossible experiment: Measuring the magnetic field strength of an individual electron. If it falls down with the square of the distance, it must be a magnetic monopole. If it falls down with the third power of the distance it likely has at least two magnetic poles. End of this proposal of the impossible experiment.
Although the impossible experiment can not be done, if electrons carry magnetic charge they should be accelerated by magnetic fields in a classical way. In a uniform magnetic field it should be accelerated in the direction of the magnetic field and as such obey the classical expressions from Newton for their displacement along the magnetic field lines.
How to set up an experiment as cheap as possible?
The possible experiment number 1: Use an old cyclotron, cyclotrons are made such that the magnetic field is as uniform as possible and that is just what you need. Cyclotrons use electric field to accelerate particles (often protons) and all that stuff has to be removed carefully because we do not want any electron acceleration by electrical fields.
But an old cyclotron has the benefit it has a vacuum in it and that is also important.
The goal of the experiment is to let a beam of electrons enter the vacuum chamber, let the Lorentz force do it's thing so the electrons will go round in a circle. If the beam of electrons is made up from magnetic monopoles, the electron beam should split in two. One going up and one going down.
And, that is important, this spiraling up and down should go faster and faster precisely like the Newton law for acceleration says it should. Here is a famous photo of what clearly was a mountain of work: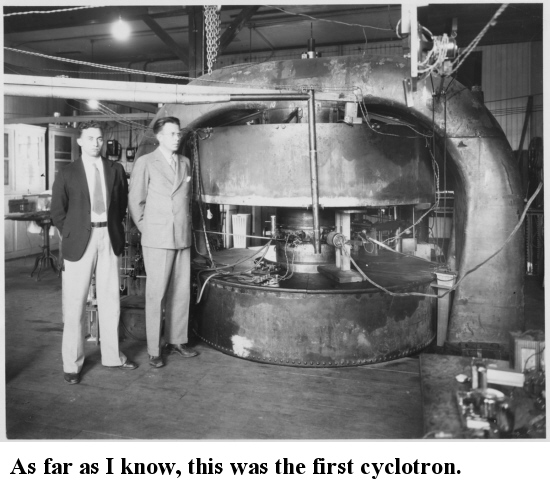 Basically the experimental setup is easy to understand: A beam of electrons enters a uniform magnetic field in a perpendicular way. The Lorentz force will make the beam go around in circles and these circles will split in two because the individual electrons are magnetic monopoles and as such have a preference of going north or south.
Although the experimental setup is easy to understand, as you see in the old picture from above it takes a lot of labor before you have your 'finished product'.
Making an electron beam should not be that hard, after all those old televisions run on that stuff. But those old televisions used high voltage so that should be far away from the inside where the electron spiral should split in half.
At CERN they are very good at transporting particles in beams, so look at ideas they use over there. So try to craft a beam of electrons that enter a chamber without any electric field and that has a uniform magnetic field.
For visualizing the electron beam splitting in two you need some stick or whatever what with fluorescent paint on it that makes the electron position visually detectable.
A lot of cyclotrons seem to be made for accelerating protons, therefore the magnetic field is rather strong if you use it for electrons. Let's take a look at that cute high school formula (anyway in most of the EU it is high school stuff, in the USA it likely is something for the last year of a university study).

My estimation is that it is not bad to have a rather strong magnetic field, you can always compensate by letting the electrons have a higher velocity but of course that will make the apparatus more expensive. With a high magnetic field strength we should get a better separation between the 'spin states' of the electron.
So if you are an experimental physicist and if you need to apply for some funding for this experimental setup, in your application always remark that you want to separate the electrons due to their spin. Absolutely do now say that you want to measure if electrons are magnetic monopoles because that is a 100% rejection of your request for funding!
So far for this easy to write down experimental setup, in practice it will be a lot of work of course but it should not be a multi year project like all that CERN stuff. And if you succeed it is very pleasant to know that over there at CERN lately they failed to find the magnetic monopoles. But they used the insights of Paul Dirac to find the magnetic monopole and that is a particle without magnetic charge and with a magnetic charge. I think such things do not exist, electrons have always a negative electric charge and one of the two magnetic charges. Why Paul never thought of a 'dual particle' to the electron that has a magnetic charge and is an electric dipole is unknown to me.
Let's go to the next possible experiment.
__________
The possible experiment number 2: From magnetic domains it is known that you cannot displace the domain walls with magnetic fields. Years ago I arrived at the conclusion that the walls of magnetic domains must have a surplus of electron pairs while the domains themselves have surpluses of either north pole electrons or south pole electrons. Hence two magnetic domains that are separated by a domain wall must always have opposite magnetic charges, that is the famous checker board pattern they must have.
I once observed a video where an experimental physics professor showed how from a super conducting material when it gets warmer, all of a sudden those magnetic domains emerge. How he made the magnetic domains visible is completely unknown by me, I also do not know how expensive such visualizations of magnetic domains are.
So if you have figured out how to make magnetic domains visible to the human eye with the help of a lot of tech, all in all checking the checker board pattern should be simple: You start with a visualization where there is no external magnetic field. If you apply an external magnetic field, in a checker board alternating fashion the magnetic domains should grow and shrink in size.
If is very simple: If you approach the sample with the south pole of a permanent magnet, the domains with a surplus of south charged electrons should shrink while the magnetic domains with a surplus of north magnetic charge should get a bit larger.
Again: I have absolutely no idea how expensive such an experimental setup is, as always the cheaper it is the better it is.
End of the description of the second possible experiment.
__________
And the perfumed princes from CERN, what do the want? After their failure of finding magnetic monopoles, any form of super symmetric particle or any significant result at all, all they want is 20+ billion € for a 100 km long particle accelerator. In my view we should not do this.
After all the CERN perfumed princes are to stupid not only to understand it is logical that electrons cannot be magnetic dipoles, they are also too stupid to understand 3D complex numbers... Why give those mentally handicapped people 20+ billion €? If you have a proven track record of finding nothing, why would that change with a fresh load of tax payer money?